Your destination is Machu Picchu, a believed center of the once massive Incan Empire. You will travel there via the Inca trail, which is considered by many to be one of the best hikes in the world. You will experience something truly unique as you get to hike 4 days through the Peruvian Andes and stumble upon ancient Incan sites carved into the side of the mountains. Here is some helpful information to know when booking and planning your Machu Picchu trip.
Preparing for your Trip to Machu Picchu, Peru
First and foremost, get the hiking trek booked. We recommend adding Wayna Picchu and ½ porter per person. You will need to book this 6 months in advance. Most people will tell you September & May are the best months to hike, but generally you will see that November – April is the only window you really need to avoid due to the rainy season. Wayna Picchu will add about 1.5 hours to your last day, but you will gain some of the best views of Machu Picchu.** This was a must do for us!
Book your flights & Hotel. All sites will tell you to arrive in Cusco, Peru at least 2 days prior to your hiking starts to get acclimated to the altitude. This is good advice, as we even noticed the elevation at 11,152 ft (3,399 meters). The signs of altitude sickness are feeling slightly queasy with a headache, it is important to make sure you stay hydrated you can even take some altitude medication if necessary.
We stayed in Urubamba, which is about 1 hour and 20 minutes outside Cusco, by Taxi. Urubamba is a slightly less crowded town & is closer to the start of the hike, an important point. The morning you leave Cusco the group will leave at 4:30 am, because we were on the way, and an over an hour from their departure we were picked up at our hotel at 5:45am, AHHH sleep! You have to confirm this during your pre-trip meeting & Llama path was happy to accommodate. The drawback is, if you would like to experience Cusco you need to be prepared to take a cab in an out of the city each day while you are adjusting to elevation. The trip will cost you about $35 each way.
OK, great you have the trek booked, now you get to stress about being in shape. We did not prepare nearly as well as we would have liked to, but we are generally active people and were more than fine for the hike. If you are active like us, our recommendation is to at least do one overnight prior to going on this trek with some decent milage. You will learn a lot about your hiking capabilities during this experience. Generally, try your best to be active a few days a week, and if you are not at a high elevation, you will likely feel a little slower than normal during the trip; you will live. If you are really worried hire a full porter for yourself. Just be sure to bring extra for the tip & Remember that means they will carry ~30 lbs (15 kgs). If you do that you'll likely be teased in your group, but you'll also be very comfortable. Most people use ½ a porter each, this is what we did and we were very comfortable.
One Month till Machu Picchu
Your trip is a little more than a month away and it is crunch time. If you are missing any gear get it ordered! Do not forget to go to a travel clinic to get whatever shots you need. Don't panic, at the time of our departure everyone was worried about Zika and Malaria, and we came to find out the mosquitos that were carriers were not living at the altitude we were at. Always, check the CDC & talk to the travel clinic, but we were all fine.
The biggest problem most people have is from drinking the water. Llama path filtered all our water for us & not one person in our group of 12 got sick. Now, we were also very careful with water usage. Two things to remember: 1) If you touch something use hand sanitizer immediately 2) Brushing your teeth in questionable water is still a problem! Always use the sterilized water they give you.
Time is up! Your flight is this week and you should be excited. Focus this week on organizing stuff. Get your hiking gear, toiletries, wallet, passport, electronics, medications, snacks, etc together. There are stores down there, so if you forget something do not panic someplace down there will have what you need.
Need help with what to pack? Check out our gear recommendations here.
Pre-Hiking Days in Cusco/Urubamba
Day 1: The lay of the Land
The first day in Peru was a little chaotic for us. We arrived in the early morning & spend most of the time running around, getting checked in, and trying to get familiarized with the lay of the land. We went to our hotel in Urubamba to drop our bags then went back to Cusco because we had to pay our balance to Llama path. In hindsight it was just too much travel for us in one day and we were exhausted by all the back and forth. If we were to do it again we would have tried to go straight to Llama path paid the balance, traveled to Urubamba, checked into the hotel, and went to a restaurant called 3 Keros. I would have eaten ceviche & drank pisco sours all afternoon.
Day 2: Exploring Cusco.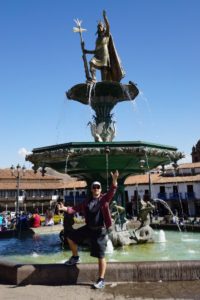 Second day into Peru we focused our explorations in the city of Cusco. There are few sites (churches, & downtown shops) to go see and some restaurants if you can try to get somewhere and try guinea pig. It is a big deal in Peru, they raise them like chickens, and honestly they are not half bad. If you like seafood you will find ceviche everywhere you go…delicious!
We had our pre-hike meeting in the afternoon in Cusco, here we met our group we would be hiking with for the next few days as well as learned more about our hike, logistics, and the guides answered any questions we had.
Other recommendations of things to do in or around Cusco – There are a couple historic sites worth taking a look at if you have the time Saksaywaman & Salinas de Maras
Day 3: Pre-trip relaxation
The third day we stayed in Urubamba and relaxed at our hotel pool in the morning. The hotel we stayed at recommended we try 3 Keros a local restaurant for lunch and it was awesome! They had some football on the TV there and the owner was extremely friendly as he came over and chatted with us for a while. The food was the best meal we had while in Peru, and the prices were really great. We then walked around the little town and saw the local shopping markets. The next morning it was off to the trail so we journeyed off to bed at a reasonable time to get a good night rest. Tomorrow would be an early morning!
See related posts:
What to Pack for Hiking the Inca Trail to Machu Picchu
Information on Hiking the Inca Trail to Machu Picchu