Trail Info:
Total Distance: 7.24 miles roundtrip
Time: 1 day (~6 hours)
Elevation Gain: 3,087 ft
Trails: Greeley Ponds Trail
Parking: Greeley Ponds Trailhead off the Kanc (Rt 112), Lincoln/ Livermore, NH
Ratings (Winter):





Great views on Osceola, forested summit on East Osceola, but a nice lookout nearby. The trail was clearly marked and easy to navigate. Typical hike with not many unique features, but beautiful in the winter.
Gear and Tips:
See our winter gear section, but be sure to bring extra layers and spikes.
Osceola Summary:
Kicking off 2016 to focus on being outside. As a first hike of the year this was a great day. Overall this hike was not that challenging, but being recently in hibernation it caused us to struggle more than it should have.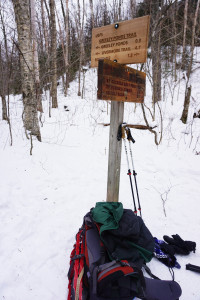 The hike starts with an easy mile towards the Greeley Ponds Cutoff. Through that mile expect to cross a few streams and you will not gain much elevation. The trail to the Osceolas then forks off to the right. At this point the trail will start to challenge you. The hike will steadily go upwards until you finally reach an exposed outlook towards the summit. The views we had were stunning.
Once you hit the summit of East Osceola you will notice not much of a view, but there are a few lookouts nearby that allow for a nice opportunity to catch your breath and take in the scenery. Onward towards the next summit. The next mile or so will start downhill then end up with a steady incline towards the second peak. Because of the season, there are a few gnarly looking ascensions, but there alternative routes clearly carved out around them if you do not feel like testing your mountaineering abilities.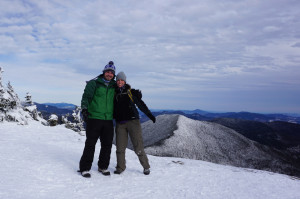 The summit of Osceola is the more scenic of the two. There are the footings of an old tower that used to be on the summit still in place, and the views to the left allow for a peak at Washington on a clear day. If the wind is behaving it is a great place to have lunch and unwind after a great hike up.
On the way down we did a little "sliding" as the snow was rather soft and steep at times. It sounds like it would be all fun, but typically it is more practical than enjoyable. Overall, it was a great start to the year and we look forward to the next hike.
Video:

Map:
Photos: