Trail Info:
Total Distance: 7.2 miles
Total Elevation: 4,006 ft.
Time: 4.75 hours
Elevation Gain: 2,708
Difficulty: Moderate
Trails: Starr King Trail
Parking: In Jefferson on RT2, on Starr King Road, across the street from the Waumbek Golf Course, located about .4 miles east of Jefferson, between NH Routes 116 and Route 115. Follow the road, staying to the left on the crossroads, until you get to the parking area. If the lot is full, there is additional parking off of Route 2 and walk the .3 miles to the trailhead.
Ratings:





Mt. Waumbek is one of the easiest NH 4000 footers and a great hike for beginners. Overall hike is well maintained, has a gradual steady incline, and easy to navigate. You get to see an old stone well and an outdoor fireplace on the top of Mt. Starr King, which gives the hike some personality. There is tree cover surrounding the peak, but the outlook nearby allows for views on a clear day.
Summary:
Mt. Waumbek is one of the most northern peaks of the NH 48. It follows the Starr King Trail up to Mt. Star King then over to Mt. Waumbek and returning back the same way you came. This was a great first hike for Remmy, our 5 month old chocolate lab. We had taken her on a few minor local hikes in the area; this was her first real hike, and she did awesome.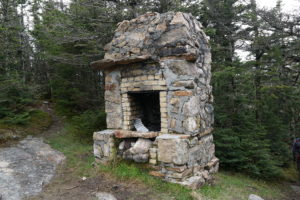 The trail has a gradual incline to the summit of Mt Star King. There are no river crossings or trial intersections to worry about, just follow the trail till you reach the summit. Everything is very clearly marked.
A shelter had once been located near the summit of Mt. Starr King. All that remains is its fireplace.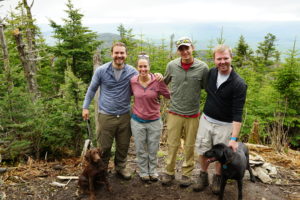 Once you leave Mt. Starr King, it's roughly a half a mile traverse over to Mt. Waumbek. The summit is completely covered in trees, with a cairn marking its place. There is an outlook shortly passed the summit that gives some views, we hung there for a while and enjoyed a snack before following our tracks back down to the parking area.
Overall, this is a great for all beginners, puppies and everyone looking to enjoy the outdoors. We had a great time with friends and look forward to taking Remmy on her next hike. Bridgette has now hit her 38th 4000 footer, and is excited to conquer the next 10 peaks with Mark and Remmy to complete her 48!
Map:
Photos: